Lumps of Legal Coal: Holiday Trials Produce Higher Damages for Civil Defendants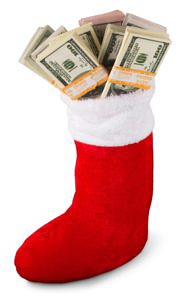 We often hear attorneys suggest it is dangerous for civil defendants to try cases over the holidays. Conventional wisdom holds that there is a "Christmas Effect" that results in jurors being more generous on the verdict form.
Our data, from several hundred similar personal injury and wrongful death cases tried over the last few years, demonstrates that not only is this conventional wisdom true, but the magnitude of this effect may be much larger than anyone suspects. Stunningly, average damages were more than double in cases that went to verdict in November or December versus the rest of the year. However there was no corresponding change in the percentage of cases won by plaintiffs. Said differently, defendants didn't lose more frequently during the holidays; but when they did lose, they paid significantly more in damages.
A pair of plausible explanations exist for this increase. First, jurors are more sentimental during the holidays. Research has shown that Americans are more emotional during the holidays while spending time with friends and family. Further, charity and assisting the less fortunate – from giving to Salvation Army Santas to helping feed the homeless – are an ingrained part of our national holiday culture. This likely leads jurors to award higher damages (especially non-economic damages) to a plaintiff who has been seriously injured or lost a loved one.
Second, seated juries seem to have more "high damages" jurors at this time of year. We know from our experience that a juror's level of social capital – broadly defined as how rooted and invested they are in their community – is often related to their feelings about damages. Jurors with higher social capital tend to skew lower damages (and vice versa). These jurors are also more likely to have the means to travel over the holidays and thus are more likely to be dismissed for hardship during end-of-year trials (something we have observed time and time again). Thus, jurors who remain in the pool following prequalification tend to have lower social capital and thus more plaintiff oriented attitudes regarding damages.
An additional albeit more speculative explanation could be holiday stress. Studies have shown that the holidays are a significant source of financial concern – particularly for jurors in the lower middle class. Such pressure may contribute toward a desire to alleviate similar problems for a worthy plaintiff while also increasing negative feelings toward deep-pocketed corporate defendants.
What's a Defendant to Do?
How to prevent plaintiff counsel from making their holidays extra-special at your expense? The obvious answer is to try and avoid calendaring a trial for the holiday period. Fortunately many judges are reluctant to try lengthy cases at this time of year.
If you do have to try a case during the holidays:
Ask the trial judge, not court staff or another judge, to conduct prequalification. In our experience trial judges are traditionally much stricter on letting jurors off for hardship, including holiday plans.
When dealing with a judge lenient on hardship, request that counsel be allowed to ask follow up questions (or at least suggest them to the Court). At a minimum, counsel should ask to be present for and involved in prequalification decisions, as in our experience this seems to result in judges applying a higher standard for dismissal.
Should jurors with high social capital indicate minor, holiday-related scheduling conflicts, persuade the judge to accommodate these issues rather than dismiss such jurors from the panel.
Consider acknowledging the impact the holidays may have on jurors beginning in jury selection.
• In voir dire, weave the holidays into commitments about setting sympathy aside, getting jurors to confirm they will not be influenced by sentiment this time of year can generate.
• In opening, highlight any attempt by plaintiff counsel to capitalize on holiday sentiment (for example, if he or she states how hard it is for their client to be without a loved one at this time of year). Make a point to stress that this is at odds with the Court's instructions.
• In closing, remind jurors of the commitment they made in voir dire and ask that they ensure this not come in to play during deliberations.
Weigh the impact of the holidays on your jury when making a decision about whether or not to anchor compensatory damages. Since jurors are more apt to give plaintiffs the benefit of the doubt on damages at this time of year, anchoring is likely to be beneficial in a broader range of cases – especially in high-risk cases and/or those venued in a judicial hell hole.
Written by Stephen M. Duffy, Senior Consultant, with Trial Behavior Consulting.
For the latest insight on juror attitudes, e-mail us at clientservices@trialbehavior.com, or call us at one of the numbers below:
Chicago: 312.590.8324
Los Angeles: 310.826.2005
San Francisco: 415.781.5879